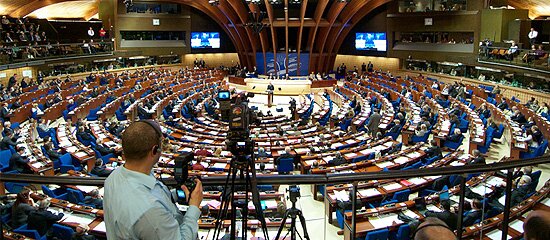 Spring Session: state of emergency, hybrid war, corruption, editorial integrity
Strasbourg, 23-27 April


On the occasion of its Spring session (Strasbourg, 23-27 April), PACE will examine the state of emergency and proportionality issues relating to the derogation provided for in Article 15 of the European Convention on Human Rights.
PACE will discuss the fight against organised crime through the confiscation of illegal assets, the funding of the terrorist group Daesh as well as legal and human rights challenges related to hybrid war. A joint debate will address the issues of editorial integrity and the status of journalists.
The Council of Europe's role in Libya and a report on the humanitarian needs of internally displaced persons and a report on the implementation of the Paris Agreement on climate change are also on the agenda.
There has been a request for an urgent debate on "Rising anti-Semitism, Islamophobia and xenophobia in Europe: a threat to European values" and for current affairs debates on "The Copenhagen Declaration, appreciation and follow-up" and on "Illegal elections of the President of the Russian Federation on the temporarily occupied territory of the Autonomous Republic of Crimea: a human rights violation".
The Foreign Ministers of "the former Yugoslav Republic of Macedonia" will address the Assembly and answer questions. PACE members will also have the opportunity to have an exchange of views with the Secretary General of the Organisation and the Chairman of the Committee of Ministers.
As part of the progress report of its Bureau, the Assembly will have the opportunity to discuss the final report of the independent external investigation body in charge of carrying out a detailed independent inquiry into allegations of corruption and fostering of interests made against certain PACE members or former members. It will be available on the webpage of the independent external investigation body, following the presentation of the report to the PACE Bureau on the eve of the session.