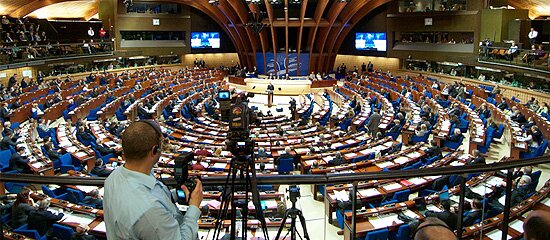 Strasbourg, 8-12 October
At its autumn session in Strasbourg (8-12 October 2018), the Parliamentary Assembly of the Council of Europe (PACE) discussed the strengthening of its decision-making process concerning credentials and voting.
The winner of the 2018 Václav Havel Human Rights Prize was announced on Monday 8 October, from a shortlist of three nominees, and the prize awarded in a special ceremony in the plenary.
PACE held a joint debate on the foreign funding of Islam in Europe and the radicalisation of migrants and diaspora communities. It discussed the access to member States by Council of Europe and United Nations human rights monitoring bodies as well as deal-making in criminal procedures.
A current affairs debate was held on "Council of Europe – An organisation in crisis".
Other items on the agenda included the treatment of Palestinian minors in the Israeli justice system, migration from a gender perspective, family reunification in member states and equality in private life regardless of sexual orientation.
Nuclear safety and security in Europe as well as the crash of Polish Air Force Tu-154M transporting the Polish State delegation were also debated.
Finally, there was a discussion on the role of national parliaments in successful decentralisation processes, with a statement by the President of the Congress of Local and Regional Authorities of the Council of Europe.
The Minister for Foreign Affairs of Tunisia addressed the Assembly and answered questions, and the Deputy Prime Minister and Minister for Foreign and European Affairs of Croatia, chair of the Council of Europe's Committee of Ministers, presented the communication on its recent activities. The Organisation's Secretary General answered questions from Assembly members.
Reports and opinions on the agenda
Monday 8 October 2018
Doc. 14635 (Report on credentials) Examination of credentials of representatives and substitutes
Doc. 14632 (Progress report) Activities of the Assembly's Bureau and Standing Committee (29 June-7 October 2018)
Doc. 14632 Add. 1 (Progress report) Activities of the Assembly's Bureau and Standing Committee (8 October 2018)
Doc. 14632 Add. 2 (Progress report) Election of Judges to the European Court of Human Rights
Doc. 14634 (Communication) Activities of the President of the Parliamentary Assembly between the third and the fourth part of the 2018 Ordinary Session
Doc. 14608 (Election observation report) Observation of the early presidential and parliamentary elections in Turkey (24 June 2018)
Tuesday 9 October 2018
Doc. 14605 (Communication) Election of Judges to the European Court of Human Rights
List and curricula vitae of candidates submitted by the Government of Albania
Doc. 14603 (Communication) Election of Judges to the European Court of Human Rights
List and curricula vitae of candidates submitted by the Government of Norway
Doc. 14632 Add. 2 (Progress report) Election of Judges to the European Court of Human Rights
Doc. 14621 (Report) Strengthening the decision-making process of the Parliamentary Assembly concerning credentials and voting
Doc. 14583 (Report) The treatment of Palestinian minors in the Israeli justice system
Wednesday 10 October 2018
Doc. 14617 (Report) Regulating foreign funding of Islam in Europe in order to prevent radicalisation and Islamophobia
Doc. 14625 (Report) Radicalisation of migrants and diaspora communities in Europe
Doc. 14631 (Parliamentary questions) Parliamentary question to the Chairperson-in-Office of the Committee of Ministers
Doc. 14620 (Report) Private and family life: achieving equality regardless of sexual orientation
Doc. 14619 (Report) Unlimited access to member States, including "grey zones", by Council of Europe and United Nations human rights monitoring bodies
Thursday 11 October 2018
Doc. 14622 (Report) Nuclear safety and security in Europe
Doc. 14623 (Report) The role of national parliaments in successful decentralisation processes
Doc. 14626 (Report) Family reunification of refugees and migrants in the Council of Europe member States
Doc. 14606 (Report) Migration from a gender perspective: empowering women as key actors for integration
Doc. 14630 (Committee Opinion) Migration from a gender perspective: empowering women as key actors for integration
Friday 12 October 2018
Doc. 14618 (Report) Deal-making in criminal proceedings: the need for minimum standards for trial waiver systems
Doc. 14607 (Report) The crash of Polish Air Force Tu-154M transporting the Polish State delegation, on 10 April 2010 on the Russian Federation's territory
Doc. 14632 Add. 3 (Progress report) Activities of the Assembly's Bureau and Standing Committee (12 October 2018)