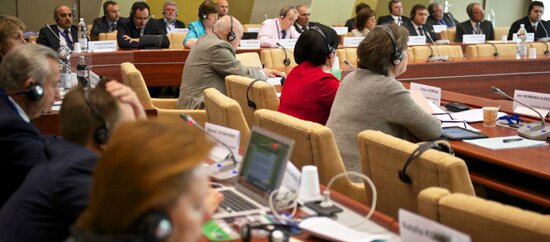 Most of the reports debated in plenary session or at the Standing Committee are prepared by a committee. The nine general committees of the Assembly are the following:
Committee on Political Affairs and Democracy (AS/Pol)
Committee on Legal Affairs and Human Rights (AS/Jur)
Committee on Social Affairs, Health and Sustainable Development (AS/Soc)
Committee on Migration, Refugees and Displaced Persons (AS/Mig)
Committee on Culture, Science, Education and Media (AS/Cult)
Committee on Equality and Non-Discrimination (AS/Ega)
Monitoring Committee (AS/Mon)
Committee on Rules of Procedure, Immunities and Institutional Affairs (AS/Pro)
Committee on the Election of Judges to the European Court of Human Rights (AS/Cdh)
In addition, most of the committees have sub-committees on specific subjects, and may create ad hoc committees for specific activities. All committees meet during the part-sessions in Strasbourg and most meet at least once in-between part-sessions, usually in Paris.
Many Assembly activities take place at the level of committees. Members may be either a full member or an alternate in committees, but cannot be a full member of more than two committees (except the Monitoring, Rules and Election of Judges Committees).
Most debates in the plenary Assembly and in the Standing Committee take place on the basis of committee reports. The committee reports are prepared (in English and French) and presented by a rapporteur, with the help of the Secretariat.
Several Assembly reports have a high media impact, prompting direct government reactions and triggering political change (e.g. the report on the alleged secret detentions in Council of Europe member states prepared by the Swiss senator Dick Marty).
Once an Assembly text is adopted, this is not the end of the story. Since the Assembly reform of 2011, the rapporteur and the relevant committee are mandated during the twelve months following the adoption of the text to check the implementation of measures proposed therein.
Moreover, committees may appoint general rapporteurs to cover a particular field or topic, in order to promote the Assembly's decisions thereon.