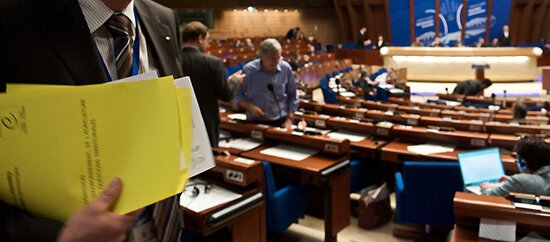 Strasbourg, 22-26 June
Speeches by UN Secretary-General Ban Ki-moon, the President of Malta Marie Louise Coleiro Preca, and the Chairman of the Presidency of Bosnia and Herzegovina Mladen Ivanic are among the highlights of the PACE 2015 Summer Session (Strasbourg, 22-26 June).
Debates on the agenda include consideration of the annulment of the previously ratified credentials of the delegation of the Russian Federation, the functioning of democratic institutions in Azerbaijan, the situation in Hungary, as well as a current affairs debate on the need for a common European response to migration challenges.
There will also be debates on missing persons in the conflict in Ukraine, improving the protection of whistle-blowers, preventing neo-racism and an evaluation of the partnership for democracy in respect of the Parliament of Morocco.
Igor Crnadak, Minister for Foreign Affairs of Bosnia and Herzegovina, will address the parliamentarians in his role as Chair of the Committee of Ministers. Council of Europe Secretary General Thorbjørn Jagland will answer questions from the parliamentarians.
The Assembly will also mark the 60th anniversary of the Europe Prize.
* * *
The final agenda is decided by the Assembly on the opening day of the session.
Reports and opinions from the agenda
Monday 22 June
Doc. 13823 (report on credentials) Examination of credentials of representatives and substitutes
Doc. 13813 (progress report) Progress report of the Bureau of the Assembly and of the Standing Committee (20 April – 21 June 2015)
Doc. 13813 (progress report addendum I) Activities of the Assembly's Bureau and Standing Committee (22 June 2015)
Doc. 13813 (progress report addendum II) Election of Judges to the European Court of Human Rights
Doc. 13813 (progress report addendum III) Ad hoc committee on large scale arrival of refugees to Turkey (Istanbul-Gaziantep, 14-16 June 2015)
Doc. 13816 (communication) Activities of the President of the Assembly between the second and third part of the 2015 Ordinary Session
Doc. 13822 (report) Observation of the parliamentary elections in Turkey (7 June 2015)
Doc. 13814 (parliamentary questions) Parliamentary questions to the Chairperson-in-Office of the Committee of Ministers
Tuesday 23 June
Election of Judges to the European Court of Human Rights. List of candidates in respect of: Armenia, Latvia, Luxembourg and Monaco (Doc. 13798, Doc. 13794, Doc. 13745, Doc. 13799)
Doc. 13811 (communication) Election of the Deputy Secretary General of the Council of Europe
Doc. 13791 (report) Improving the protection of whistle blowers
Doc. 13807 (report) Evaluation of the partnership for democracy in respect of the Parliament of Morocco
Doc. 13826 (committee opinion) Evaluation of the partnership for democracy in respect of the Parliament of Morocco
Doc. 13825 (committee opinion) Evaluation of the partnership for democracy in respect of the Parliament of Morocco
Doc. 13801 (report) The functioning of democratic institutions in Azerbaijan
Wednesday 24 June
Doc. 13800 (report) Consideration of the annulment of the previously ratified credentials of the delegation of the Russian Federation (follow-up to paragraph 16 of Resolution 2034 (2015))
Doc. 13827 (committee opinion) Consideration of the annulment of the previously ratified credentials of the delegation of the Russian Federation (follow-up to paragraph 16 of Resolution 2034 (2015))
Doc. 13806 (report) Situation in Hungary following the adoption of Assembly Resolution 1941 (2013)
Doc. 13831 (committee opinion) Situation in Hungary following the adoption of Assembly Resolution 1941 (2013)
Doc. 13832 (committee opinion) Situation in Hungary following the adoption of Assembly Resolution 1941 (2013)
Doc. 13747 (report) Increasing transparency of media ownership
Doc. 13803 (report) Media responsibility and media ethics in a changing media environment
Thursday 25 June
Doc. 13808 (report) Missing persons during the conflict in Ukraine
Doc. 13795 (report) Towards a new European social model
Friday 26 June
Doc. 13809 (report) Recognising and preventing neo-racism
Doc. 13802 (report) Increasing co-operation against cyberterrorism and other large-scale attacks on the Internet