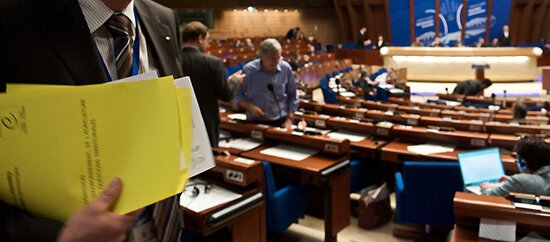 Strasbourg, 30 September-4 October 2013
Strasbourg, 05.09.2013 – Addresses by Armenian President Serzh Sargsyan, Serbian President Tomislav Nikolić and the Speaker of the Russian State Duma Sergey Naryshkin will be among highlights of PACE's forthcoming autumn plenary session (30 September-4 October).
Also on the agenda are debates on national security and access to information, and on children's right to physical integrity.
The Assembly will also award the first ever Václav Havel Human Rights Prize. More
Reports and opinions from the agenda
Monday 30 September
Doc. 13311 (report on credentials) Examination of credentials of representatives and substitutes
Doc. 13307 (progress report) Activities of the Assembly's Bureau and Standing Committee (28 June – 29 September 2013)
Doc. 13296 (election observation report) Observation of the parliamentary elections in Albania (23 June 2013)
Tuesday 1 October
Doc. 13305 (communication) Election of judges to the European Court of Human Rights – List and curricula vitae of candidates submitted by the Government of Romania
Doc. 13301 (report) The activities of the Organisation for Economic Co-operation and Development (OECD) in 2012-2013
Doc. 13297 (report) Children's right to physical integrity
Doc. 13304 (report) The progress of the Assembly's monitoring procedure (June 2012 – September 2013)
Wednesday 2 October
Doc. 13293 (report) National security and access to information
Doc. 13300 (report) The functioning of democratic institutions in Bosnia and Herzegovina
Doc. 13303 (report) The honouring of obligations and commitments by the Republic of Moldova
Thursday 3 October
Doc. 13320 (report) The situation in Syria
Doc. 13294 (report) Missing persons from Europe's conflicts: the long road to finding humanitarian answers
Doc. 13302 (report) Food security – a permanent challenge for us all
Doc. 13321 (report) European Union and Council of Europe human rights agendas: synergies not duplication!
Friday 4 October
Doc. 13292 (report) Combating discrimination against older persons on the labour market
Doc. 13308 (opinion) Combating discrimination against older persons on the labour market
Doc. 13236 (report) Strengthening the institution of Ombudsman in Europe