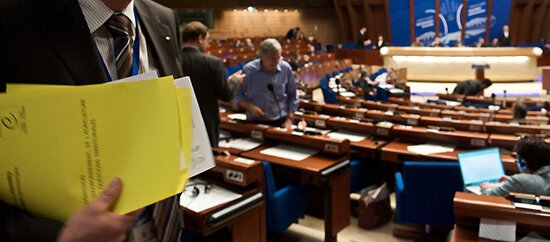 Strasbourg, 28 September-2 October 2015
A joint debate on the humanitarian and political response to the migration and refugee crisis in Europe, the challenges for countries of transit, and the urgent need for a real European asylum system, with the intervention of the President of the Italian Chamber of Deputies Laura Boldrini, will be among highlights of PACE's Autumn Session (Strasbourg, 28 September-2 October 2015).
The Assembly will award the 2015 Václav Havel Human Rights Prize.
There will also be debates on public health and the interests of the pharmaceutical industry, freedom of religion and living together in a democratic society, the implementation of judgments of the European Court of Human Rights and the activities of the Organisation for Economic Co-operation and Development (OECD), with the participation of its Secretary General Angel Gurría.
His Royal Highness the Grand Duke of Luxembourg, as well as the Prime Minister of Serbia Aleksandar Vucic, and the Chairperson of the Council of Ministers of Bosnia and Herzegovina Denis Zvizdic, will address the parliamentarians.
The Assembly will elect its Secretary General for the five years to come.
Igor Crnadak, Minister for Foreign Affairs of Bosnia and Herzegovina, will address the parliamentarians in his role as Chair of the Committee of Ministers. Council of Europe Secretary General Thorbjørn Jagland will answer questions from the parliamentarians.
* * *
The final agenda is decided by the Assembly on the opening day of the session.
Monday 28 September 2015
Doc. 13882 (Report on credentials) Examination of credentials of representatives and substitutes
Doc. 13872 (Progress report) Activities of the Assembly's Bureau and Standing Committee (26 June-27 September 2015)
Doc. 13872 Addendum I (Progress report) Activities of the Assembly's Bureau and Standing Committee (28 September 2015)
Doc. 13872 Addendum II (Progress report) Election of Judges to the European Court of Human Rights
Doc. 13883 (Communication) Activities of the President of the Parliamentary Assembly between the third and the fourth part of the 2015 Ordinary session
Tuesday 29 September 2015
Doc. 13861 (Communication) Election of judges to the European Court of Human Rights{In accordance with Article 22 of the European Convention on Human Rights.}
List and curricula vitae of candidates submitted by the Government of the Slovak Republic
Doc. 13853 (Communication) Election of the Secretary General of the Parliamentary Assembly of the Council of Europe
Doc. 13869 (Report) Public health and the interests of the pharmaceutical industry: how to guarantee the primacy of public health interests?
Doc. 13866 (Report) After Dublin – the urgent need for a real European asylum system
Doc. 13884 (Committee Opinion) After Dublin – the urgent need for a real European asylum system
Doc. 13867 (Report) Countries of transit: meeting new migration and asylum challenges
Doc. 13867 Add. (Addendum to the report) Countries of transit: meeting new migration and asylum challenges
Wednesday 30 September 2015
Doc. 13882 Add. (Report on credentials) Examination of credentials of representatives and substitutes
Doc. 13865 (Report) The activities of the Organisation for Economic Co-operation and Development (OECD) in 2014-2015
Doc. 13864 (Report) Implementation of judgments of the European Court of Human Rights
Doc. 13864 Add. (Addendum to the report) Implementation of judgments of the European Court of Human Rights
Doc. 13851 (Report) Freedom of religion and living together in a democratic society
Doc. 13886 (Committee Opinion) Freedom of religion and living together in a democratic society
Doc. 13871 (Committee Opinion) Freedom of religion and living together in a democratic society
Thursday 1 October 2015
Doc. 13863 (Report) Abuse of pretrial detention in States Parties to the European Convention on Human Rights
Doc. 13868 Part 1 (Report) The progress of the Assembly's monitoring procedure (October 2014-August 2015)
Doc. 13868 Part 2 (Report) The progress of the Assembly's monitoring procedure (October 2014-August 2015)
Periodic review report of countries not under the monitoring procedure sensu stricto or engaged in a post-monitoring dialogue:
Andorra
Doc. 13868 Part 3 (Report) The progress of the Assembly's monitoring procedure (October 2014-August 2015)
Periodic review report of countries not under the monitoring procedure sensu stricto or engaged in a post-monitoring dialogue:
Belgium
Doc. 13868 Part 4 (Report) The progress of the Assembly's monitoring procedure (October 2014-August 2015)
Periodic review report of countries not under the monitoring procedure sensu stricto or engaged in a post-monitoring dialogue:
Croatia
Doc. 13868 Part 5 (Report) The progress of the Assembly's monitoring procedure (October 2014-August 2015)
Periodic review report of countries not under the monitoring procedure sensu stricto or engaged in a post-monitoring dialogue:
Cyprus
Friday 2 October 2015
Doc. 13870 (Report) Equality and shared parental responsibility: the role of fathers
Doc. 13896 (Committee Opinion) Equality and shared parental responsibility: the role of fathers
Doc. 13852 (Report) Rethinking the anti-doping strategy
Doc. 13872 Addendum III (Progress report) Activities of the Assembly's Bureau and Standing Committee (2 October 2015)