With the Terrorism: #NoHateNoFear initiative, the Parliamentary Assembly of the Council of Europe wishes to encourage all players in society to stand firm against the terrorist threat by refusing to give in to hatred or fear.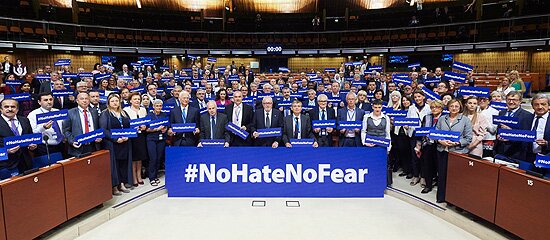 Certainly, terrorism must be combated, but this fight must be waged with due regard for the values which unite us: human rights, democracy and the rule of law.  Strong words are of course needed, but on no account words of hatred and vengeance.  We must ensure maximum security, but must avoid security excesses which unduly limit our freedoms and create a feeling of mistrust and fear among people.  We must not fall into the trap of terrorists who seek to destabilise the foundations of our societies and destroy our ways of life by sowing the seeds of fear and hatred.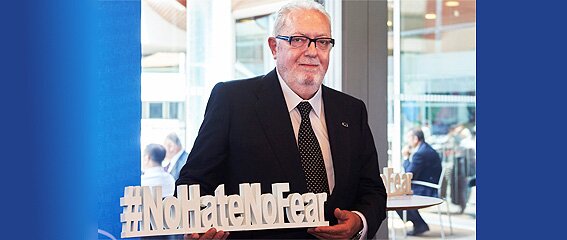 This initiative was launched in June 2015 by Mr Pedro Agramunt, former President of the Parliamentary Assembly, with the aim of rallying as many people as possible – politicians, academics, journalists, representatives of civil society and ordinary citizens – to say a resounding "NO" to fear and hatred.
The initiative's main goal is to tackle the growing feeling of collective insecurity and the stigmatisation of certain groups of society due to distrust, suspicion, discrimination and hate speech, especially in politics. If these issues are not tackled, they will fuel populist movements, which play on security as a simplistic option to counter terrorism.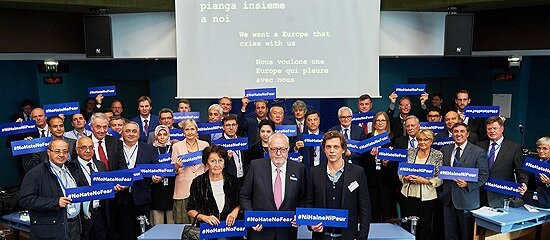 Through this initiative, the Assembly calls on politicians to shoulder their responsibility to speak out publicly against fear and hatred, and to promote fundamental freedoms and the values of tolerance, non-discrimination and respect for human dignity. Through practical action in their parliaments and in their constituencies parliamentarians can help immunise society against fear and hatred.