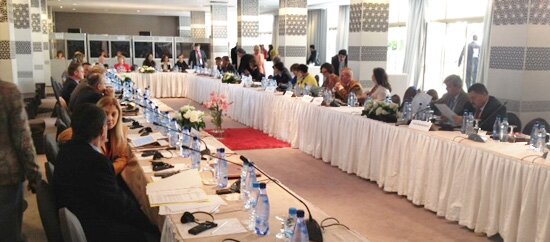 The Parliamentary Project Support Division was created in 2012. Its aim is, in co-operation with the general Committees, to assist with the implementation of specific co-operation involving parliamentarians and staff of national parliaments, so as to increase the visibility and impact of the PACE's work.
It is intended  to ensure that the PACE's key recommendations are better known by national parliaments of Member States Parties and beyond, in observer and partner for democracy parliaments.
The capacity to achieve tangible results remains the key criterion that has guided the design of the activities proposed. Seminars, capacity building and exchange of good practices, organised on a well-defined agenda and involving a limited number of countries have been preferred to large-scale conferences.
Importance has also been given to identifying issues and projects on which it will be possible to build over time. Although the Plan is formulated for one year, a number of initiatives are conceived with a two or three-year horizon.
These dimensions are also at the core of the fund-raising initiatives, which will be pursued to support the co-operation activities. In 2012 external partners began providing additional funding to the PACE's parliamentary co-operation recognising the added value of these initiatives.
By targeting its co-operation with national parliaments on thematic priorities which are at the core of its work and on which it has recognised expertise, the PACE is well positioned to show that its projects can make a difference, but also that they can usefully complement and reinforce initiatives taken by the Council of Europe at the inter-governmental level.
Practical information
Contact the secretariat
–

6.183

–

+33/3 88.41.2143

–

6.172

–

+33/3 88.41.2265

–

6.185

–

+33/3 90.21.4595