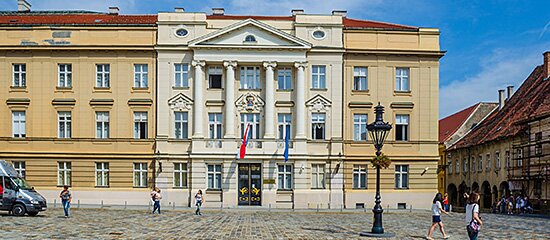 The Standing Committee (*) of the Parliamentary Assembly of the Council of Europe (PACE) met in Zagreb, at the Croatian Parliament, on Friday 1 June 2018, on the occasion of the Croatian Chairmanship of the Committee of Ministers (May-November 2018).
After the opening of the meeting by PACE President Michele Nicoletti, the Speaker of the Croatian Parliament, Gordan Jandroković, welcomed participants. The parliamentarians then held an exchange of views with the Croatian Minister of Foreign and European Affairs, Marija Pejčinović Burić, who will chair the Council of Europe Committee of Ministers for the six-month period. The discussions focused on Croatia' priorities during its Chairmanship and other issues in the framework of the Assembly's ongoing political dialogue with the Committee of Ministers.
Other items on the agenda included the observation of the presidential election in Montenegro, counter-narratives to terrorism, promoting diversity and equality in politics, and detainees with disabilities in Europe.
---
(*) The Standing Committee, which acts on the Assembly's behalf between plenary sessions, is made up of the President and Vice-Presidents of the Assembly, the chairpersons of political groups, the chairpersons of national delegations and the committee chairpersons, totalling some 60 parliamentarians from the Council of Europe's 47 member States.
The meeting of the Standing Committee, which is open to the press, will take place on Friday 1 June from 9.30 am to 12.30 pm at the Croatian Parliament, Hrvatski sabor,Trg Svetog Marka 6-7, in Zagreb.